2010 BareBones Halloween Show Dedicated to Ethan Johnson
The 2010 BareBones Halloween Show, Carnetheria, is dedicated to the loving memory of Ethan Johnson who, as we say, crossed from This World to the Other World on September 21st, the last day of Summer. Ethan found his way to the BareBones Halloween show in 2006 during production of The Uninvited Guest and, in addition to his myriad other involvements, passions, and fascinations for which he was very well-known, was hooked on the BareBones puppet scene ever since.
He was a steady-on builder, artist, puppeteer, performer, helper, grant writer, planner, supporter, and organizer for BareBones Productions during the four sweet years that we knew him. This is the fifth Halloween Outdoor Puppet Extravaganza for which he was an anchor of a volunteer, and now he is both the farthest and the nearest that we can imagine.
Ethan is profoundly missed, his loss extraordinarily grieved, and his life wildly celebrated.
-Brent Harring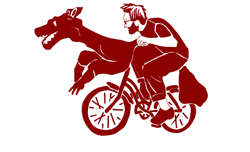 Woodcut print of Ethan Johnson by Yana Frank, from a photo by Jayme Halbritter
Carnetheria Schedule (All shows at 7PM):
Please visit the BareBones website for more information.